Stop Bell Canada from DNS Hijacking
From David Spencer's Media Spin : Observations about media in Canada
Today is Sunday May 19, 2019 in Canada.

This is the day that the Lord has made; we will rejoice and be glad in it. (Psalm 118:24)


David Spencer's Media Spin Canada provides information on:

associations in media, a glossary, music, Media new media, photography, publishing, radio, television, video and Resources web resources.
David M.R.D. Spencer's founding and work with ChristianMedia.ca between 1999 to 2008. Read the interview with David .
To connect with Canadian Christians working and volunteering in arts, media and music, publishing and writing go here .
---
< Home
| Associations | Categories | Glossary | Media Workers | New | Popular | Search
---
Stop Bell Canada from DNS Hijacking
In June 2009, Bell Canada's Sympatico.ca Internet service began hijacking DNS queries for web searches for unregistered domain names. Queries now redirect to domainnotfound.ca. This practice by Bell Canada's Sympatico.ca is unethical because they are now tracking user's search queries and serving unsolicited web advertisements.

Bell Canada's Sympatico.ca DNS Hijacking Search Page
Screen shot courtesy of Jose Sandoval Software developer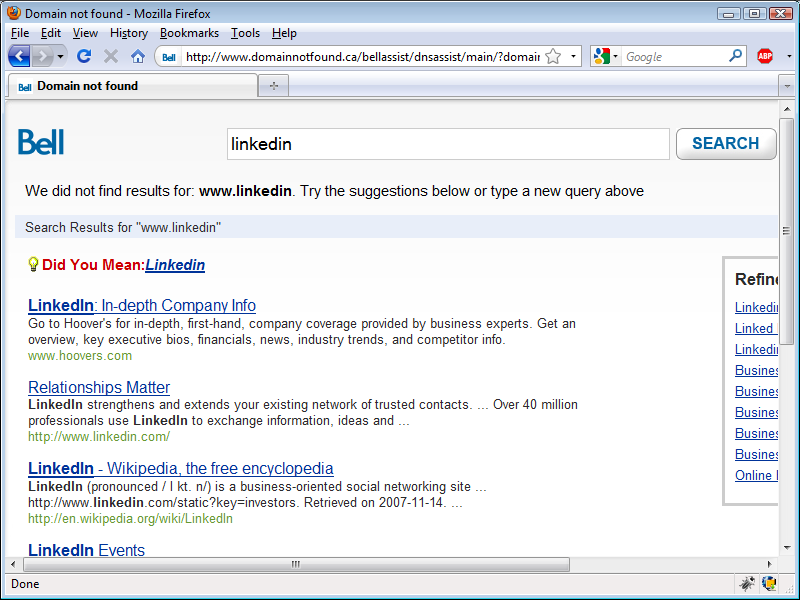 Comments from Web Specialists and Bell Sympatico.ca Users
Comments from Jose Sandoval, software developer
"When I saw it, I thought my computer was infected with a virus. After looking around my computer for a few minutes, I figured out what was going on. Bell is hijacking invalid or non-existing DNS entries to display, likely, sponsored search results via their network. Note that I was trying to go to someone's LinkedIn profile and also note how this DNS hijacking process is now telling me that LinkedIn doesn't exist, when it clearly does."
I knew that Rogers already did this, but I don't use Rogers, so I've never seen it in action. But now that Bell is doing, I can see clearly that I don't like it.
1. First, Bell doesn't ask if you want to participate in this practice.
2. Second, if there is any link sponsorship, I don't see any money coming my way.
3. Third, I already pay for my internet service, so I don't think I should unwillingly become another source of revenue for Bell.
Comments from timothy
""Bell Canada started hijacking non-existent domains (in the same manner as Rogers), redirecting NX-response queries to themselves, of course. Before opting-out, you get their wonderfully self-promoting and self-serving search page. When you 'opt-out,' your browser receives a cookie (isn't that nice) that tells them that you don't want the search page. It will still use their broken DNS server's non-NX response, but it will show a 'Domain Not Found' mock-up page that they (I surmise) tailor to your browser-agent string. During the opt-out process, they claim to be interested in feedback, but provide no method on that page (or any other page within the 'domainnotfound.ca' site) to contact them with complaints."
comments from WebsiteForensics.com
"Mistyped URLS or defunct domains are now being redirected by Bell Canada to an ad-rich search page. This new "service" is in fact DNS hijacking and a cheap cash grab by Canada's ISP. Similar programs have been enacted by other ISPs in the United-States such as Comcast."
"This practice is not only surprising, it is an invasive service that has only one purpose: to raise advertising dollars for Bell.ca. Disappointing to say the least."
Comments from Thane_Bitter
"I find the practice rather objectionable; you are PAYING handsomely for a service which one would expect some functionality without ads."
Comments from Yessss
"Also, Bell stated they can market what they want with your data. It's not a privacy invasion at all they stated. This would fall in line with what they told the CRTC. Its an added revenue stream based on your typo's, IP, ect, etc..."
Comments about Comcast DNS hijacker from Cade Metz
"Comcast DNS hijacker is here to stay. As you might expect, Comcast doesn't call its DNS hijacker a DNS hijacker. It prefers "Domain Helper service."
Solutions
Solution suggestion from Jose Sandoval, software developer
"An easier solution is to modify your hosts file in your computer. Your hosts file helps your computer connect to servers faster, by bypassing the process of DNS table look ups"...read the details
This article is a stub. If you have information to help make this page more accurate, please contact us. If you would like content on this page removed from our database, please contact us. To link to this page from your web site, blog, social networking site, Twitter feed or e-mail message, use the byline "From David Spencer's Media Spin <http://media.davidspencer.ca>."